Upgrade from Aldi Mobile to
TELSTRA Package
Get *unlimited emergency use for 365 days.
Existing Customers with an Aldi Mobile account can now upgrade!
If purchased your LiveLife Mobile Alarm from us prior to December 2017 we would most likely have supplied your device with a prepaid SIM card from Aldi Mobile along with information about your Aldi account. While being the best option at the time LiveLife Alarms is always searching for ways to improve our product and service. So we came up with our *Unlimited emergency use plan on the Telstra Mobile network. Customers with existing Aldi Mobile accounts can now upgrade. Once you upgrade there is no need to worry about running out of credit ever again! The upgrade package includes many benefits.
How to upgrade
Order your Upgrade package here or call us on 1800 936 774 to order. To upgrade we need to install the new SIM card in your device. So we'll send you out a prepaid satchel for you to post your device to us. While we have your device not only will we upgrade your SIM card we'll also perform a test of its functions, upgrade the software, install a new battery and give you a brand new case. Please allow 3-5 business days to complete the upgrade. We'll then send your alarm back to you via express post. At the end of 12 months you can chose to renew for $45.00. We'll contact you close to the time to organise your renewal for another 12 months on the Telstra Mobile network.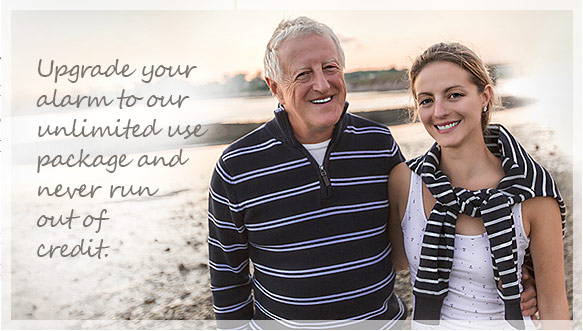 What's included

in your upgrade package **
365 days of *unlimited emergency texts and calls from your alarm.

Swap of your Aldi Mobile SIM card for a Telstra Mobile SIM card

Wider coverage across the full Telstra Retail Network (wider than Aldi).

Software upgrade to our latest version with new features

No more false alarms with our new 'Cancel alarm''feature

Technical health check and testing of your alarm

New internal lithium battery installed to extend charging life

New showerproof case to make your alarm look brand new

New set of printed instructions for your new features
** This upgrade package is not available for alarms that have an Amaysim, Optus, Vodaphone or a Telstra SIM card installed. It is only for Aldi Mobile SIM cards.








Widest coverage available on any mobile alarm
The LiveLife Mobile Alarm now uses the full retail Telstra Network which has wider coverage than the Aldi Mobile, Optus, Amaysim and Vodaphone mobile networks.